At Sports Car Craftsmen we are very passionate and careful with what we do. That is why we have a high quality website to continue offering the outstanding service and treatment our customers deserve.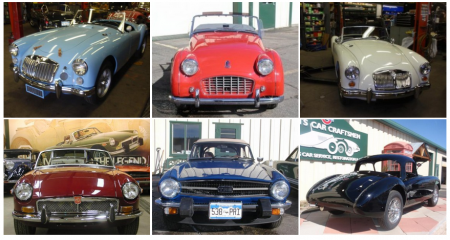 Getting to know our website allows you to find out more about our services, valuable information and tips about British classic sports cars. Here are the different sections and the information you can find on each one:
About: If you want to know information about our history, vintage British sports cars experience and our highly efficient and professional team, this is the place to go.
Our Services: We have all the services for your British classic sports car needs. Here you will be able to find the services we provide and information about our new facility.
Parts Department: If you need parts for your vintage British sports car, we have one of the world's largest inventories of used parts, as well as the Colorado largest new parts inventory.
Visit our parts department section for more information.

Parts We Make: Repairing and restoring old cars requires the use of many replacement parts in the process. Unfortunately, many parts are unavailable or the ones that are have unacceptable quality for the standards we require. That is why we create parts at our shop.
Our Restorations: In this section you can see pictures of the several British sports cars restorations we have performed at our shop.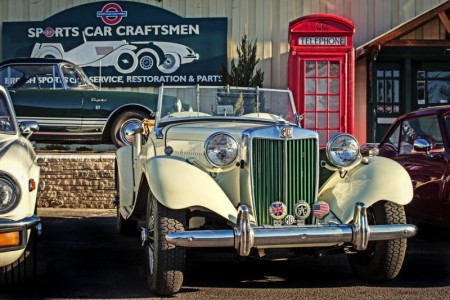 Body Repair: We repair rust damage, collision damage, bumps and bruises. Learn more about our body repairs at this section.
Gallery: We have many pictures of our restoration projects available in our gallery. Feel free to visit this section any time!
Blog: At our blog section you can read articles, information, tips and photos of British classic sports cars. We post blogs two times a week, so make sure to visit our blog section periodically.
Contact: Need to know where are we located? Here you can find our location, business hours and contact information.
We Have The Best Shop For The Care And Service Your British Sport Car Deserves
We specialize in the service, repair and restoration of MG, Triumph, Austin-Healey, Jaguar, and Sunbeam cars from the 1940-70s. We also work on Classic Mini, Morris, and Rover cars among others, as well as some honorary British sports cars: Volvo 1800s and Datsun roadsters. Call us today and let us show you why we are the best Vintage British sport cars shop in Colorado. View our Restorations Gallery for some of our British Car Restoration Projects.