Sports Car Craftsmen Parts Department
We have one of the world's largest inventories of used parts, as well as the Rocky Mountain region's largest new parts inventory. It's hard to grasp just how large our parts stock really is, so here's just a small fraction of our inventory. We have 23 shipping containers, which house both cars and parts, as well as a dedicated parts department, and an off-site warehouse full of parts. No part is too small–or big! If you're looking for a part, give us a call, and chances are we'll have it available to ship, no matter where you live.
In Shop Parts Department

This is only one half of our in-shop small parts department that we use for fixing cars every day. That, in turn, is only a tiny fraction of our entire used parts collection. Our off-site warehouse encloses 5400 sq feet of parts, with four additional semi-trailers and 6 hi-cube shipping containers full of organized parts. At the shop, we have a good-sized, tidy yard, containing a full range of parts for all vintage British sports car makes and models. We have the largest supply of used parts in the Rocky Mountain West, and one of the largest assemblages of these parts in the world. Chances are, no matter how large or small, we can find most any part you request, and we'll happily ship it to you. We've shipped every type of part imaginable to nearly every US state, and many foreign countries. If you're looking for a part, please call us and we'll see what we can do.
Quality Replacement Parts
Given that our cars are 30+ years old, it's unsurprising that finding quality replacement parts for a reasonable price is often a difficult task. There are many parts that simply aren't manufactured anymore. Alternately, older original parts are often of higher quality than those that are produced today. And those high quality parts can be on your car the same day – there's no waiting around for a shipment to come in.
Distributor of New and Used Parts
Our unparalleled stock of original parts also puts us in a unique position to investigate and document the evolution of British sports cars throughout their history. As a result, we are able to figure out precisely what part is right for your car. We also use our vast knowledge of original parts to help parts reproducers like Moss Motors make new parts that are more accurate, thus ensuring a better product on your car.
But we don't just stock used parts. We're also one of the nation's largest distributors for Moss Motors parts. If you're looking for a new or used part, whether you come to us or we ship to you, give us a call and we'll do our best to try to find whatever part you need.
Warehouse Parts
Beyond our expansive stores both in the shop and in the shipping containers in the yard, we also have a warehouse with a massive collection of parts.
Containers
Several of our 23 containers are dedicated to storing parts. For easier search and rescue, each container is carefully organized by marque, then further organized by part function. This means that we can usually find your part quickly and easily, and ship it to you as soon as possible.

Scrap Yard Cars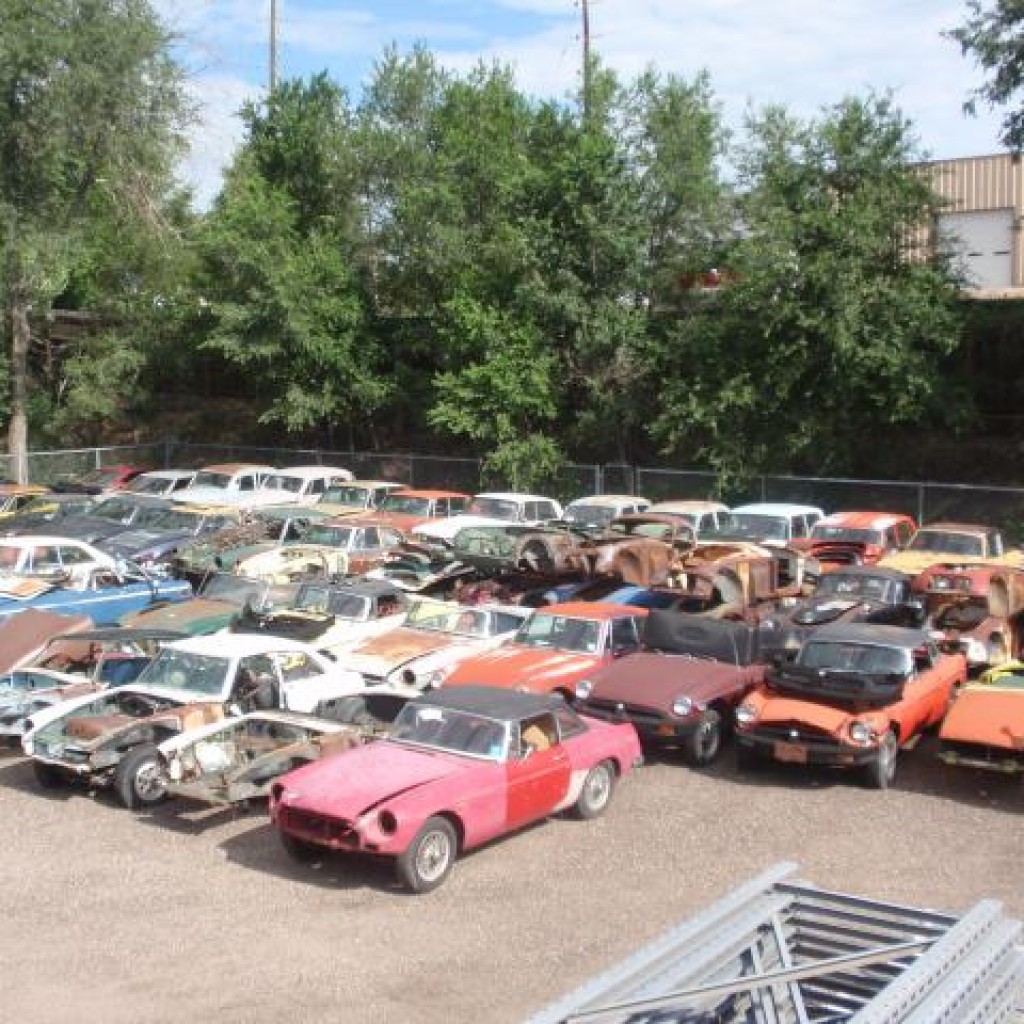 Currently, we have about 100 parts cars in the yard. While some would be tempted to scrap these cars, they are more than worth their weight in steel. Because we have such a varied collection of parts cars, we have saved and repaired numerous cars that would have otherwise been lost. Just because a car no longer runs does not mean the end of its usefulness. We often find that a car is missing a vital part (or several), but the cost of new parts may equal–or exceed–the value of the car. So we turn to our trusty parts cars, which willingly give their parts so that others may live on. We also have a number of potential builders, so if you're looking to buy a project car, we can help you out.
These cars also serve another incredibly important function. When reproduction parts are being designed and manufactured, it's vital to know all the minute details and changes made to the parts over the years. By having such a large number of cars literally in our back yard, we have dozens of original references to draw upon for reference.