Restoring a 63 MGB Roadster
Here at Sports Car Craftsmen, we are always searching for the unobtainable: The factory original car, the perfect restoration, a working Lucas electrical system.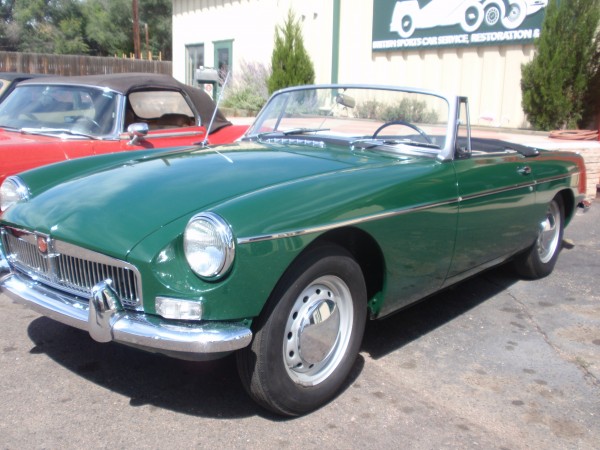 Around 2000, we stumbled across that unobtainable dream, in the form of a severely bashed up MGB: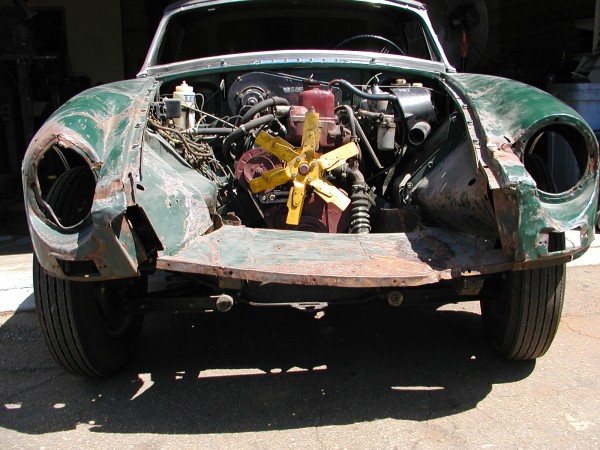 We know what you're thinking. It doesn't look like much. In fact, it doesn't look like anything at all, save maybe a candidate for a one-way ticket to the scrap yard. How it survived until the year 2000? Well, your guess is as good as ours. But who are we to look a gift horse in the mouth? Because, beneath its bruised and faded exterior, this car was the unobtainable: a factory original car with a measly 15,000 miles on it. It came off the assembly line in November 1963. Destined for the American market, it arrived on our shores in March 1964, where it was sold to a proud owner in California, who promptly crashed it — and then stored it away, perhaps in shame, perhaps in hope of a restoration, or perhaps to hide the evidence from his wife.
Between its rocky California beginnings and its Colorado revival, it took a brief detour to the Pacific Northwest, but emerged from the experience entirely unscathed, with all parts intact. (Thus, it also achieves two milestones: as a low mileage car, and as one which has escaped the ravages of plunderers at the local U-Pick and Haul.) Eventually, this MGB made its way to Colorado and into the hands of Paul, who could not believe his luck.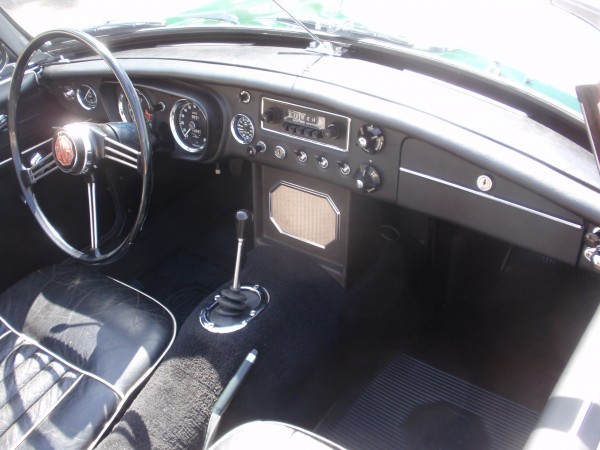 Now allow us to be the first to defend the concept of the RestorationPlus™. Originality is all well and good, but we happen to like being able to keep up with traffic on the highway. We like motoring in style and not on the side of the road. We are the first in line to install a Nissan 5 speed and super charger. But we also like to honor the authenticity of these cars. Yes, technology has advanced in the last 50 years, but there is a reason that MGBs first captured the imagination of the public. And, equally, there is a reason that they continue to have a massive number of devotees today, in an age of back-up cameras, automated door locks, and self-driving cars. And with this specimen, we finally had a chance to do a meticulous restoration which would pay homage to that original spark which fueled a passionate and, at times fanatic, following.
Of course, to live up to this standard — to truly honor these cars— we approached the restoration with an eye to even the minutest of details. In essence, we wanted this car to be an authentic 1964 MGB, bumper to bumper. It took us 15 years, and we're not done yet.
Our restoration job began with spiffing up the originals: the original seats, carpets, interior panels and all the mechanical parts as well. Even the tires are the original Dunlop Gold Seals that first put English rubber to California pavement back in '64.
We also had the task of tackling the front end. Of course, we could have enlisted our infallible metallurgist, Chris, to fabricate a new front end, but that's not how it would have been done in the 1960s. In the original MGB parts catalogue, this part was available for purchase: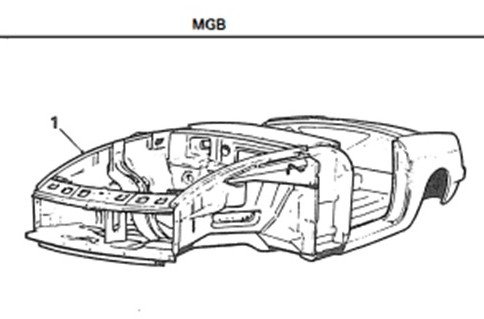 You won't find this part in the Moss catalogue. So, of course, we found one rather than fabricating it. Or rather, we pulled the identical part off a parts car in our salvage yard. Then we carefully secured it in place, bolt by bolt. And just for authenticity's sake, we rewelded every factory original spot weld.
Given the state of the front end, we also had a heck of a time replacing the grille. As our devoted followers will remember, it took us a whole summer to find the right grille (and we took the opportunity to document the extensive process it takes to rehabilitate new grilles and make them suitable for use on MGBs here.)
Working our way from the body up, we maintained that same level of authentic detail. When it finally came time to paint, for example, we used a single stage paint, rather than the standard double stage paint used today. Archaic? Yes. But it meant the car sported its original luster.
Ultimately, this was a project of love. It took us years of slow, fastidious work to replicate all the original details. But our end product is a museum-quality piece, and an example of the best engineering MG had to offer. The MGB was the first British sports car to capture the American imagination, and it paved the way for the success of other British models. As such, we wanted to restore it to the factory original to illustrate all the features that made it a revolutionary car when it was first introduced in 1963.
At Sports Car Craftsmen We Specialize in the Service, Repair and Restoration of British Classic Sports Cars
We are one of the few shops in the world that has both the skills and the knowledge needed to fix this MG MGB properly, not to mention the high quality of the original parts needed to be able to leave this car in a perfectly good and functional condition again.
Our shop can service all of your vintage British sports car needs, bumper-to-bumper. We've provided parts, service, repair and restoration to Colorado's sports car community since 1998, but we have over 100 years of combined experience on staff. No other place will care for every detail of your British Car as you do. We will!
You won't imagine all the services Sports Car Craftsmen can provide; from simple tune-ups and oil changes to engine rebuilds or a full scale restoration. All performed with supreme care, skill and precision. Call us today!