MGB Transmission Conversion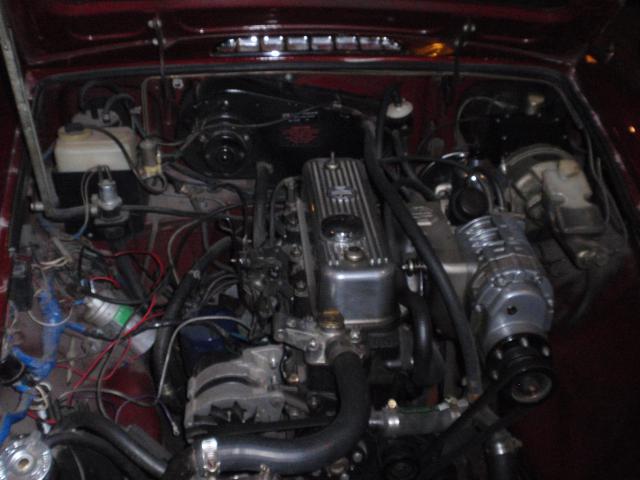 All MGBs desperately need an overdriven top gear for highway driving, but unfortunately, the now pricey overdrive option was only installed on about 10% of US-bound MGBs. These rare overdrive units are now hard to find and fairly expensive to install. Using a rugged, time-proven Nissan 5 speed transmission, we offer a completely bolt-in conversion for MGBs with 5 main bearing engines that requires no body modifications. You can supply your own transmission from a '75 to '83 Datsun 280Z or 280ZX, or we can locate one for you (be sure you get the shift lever, rear mount, clutch fork, and release bearing with your gearbox). Building the kit to your order usually requires about two weeks. When completed, you will enjoy these benefits:
A commonly available, sturdy gearbox with overdriven 5th gear (ratio .85 to .78 depending on your chosen gearbox)
A perfectly positioned shift lever in the original MG position and boot
A working and accurately reading speedometer
The conversion can be installed without pulling the engine in rubber bumper MGBs
Substantial cost savings for both parts and installation labor compared to an overdrive conversion
The Nissan 5 Speed Transmission Conversion Kit includes the following parts:
CNC machined aluminum adapter plate with new seal and mounting hardware
New drive shaft, complete and ready to install
Modified flywheel with new ring gear (your exchange required)
Pilot bushing
Clutch disk and alignment tool
Speedometer cable and ratio changing angle drive specifically for your car year
Adapting bracket for transmission mount into your crossmember
New rear seal for the Nissan transmission
New clutch slave cylinder with braided steel hose
Full illustrated instructions
Modified shift lever
Why Us?
You might find similar kits available online but our kit offers some unique features not found elsewhere:
Our drive shaft is complete and ready to bolt in
Our clutch slave cylinder flex hose replaces the original and maintains the steel pipe from the master cylinder
We modify your shift lever at no extra cost and can maintain the use of your original shift knob if you supply your MG shift lever along with your Nissan lever for us to convert
Although this conversion in intended for use in '68-'80 MGBs, we have also used it in MGAs and three synchro MGBs from '63-'67. We can offer information, documentation, and guidance for using the conversion in those cars.
Why Five Speed
The original MGB gearbox was created for the small winding roads of the British countryside, not the long, straight highways of the American West. Whether your car is a daily driver or a weekend road tripper, it could undoubtably use a boost when it comes to mountain motoring. Authenticity is all well and good, and it's always nice to see a classic British car complete with original parts, but for people who actually like to drive their cars, we're huge fans of the Nissan 5 speed transmission conversion. This conversion corrects the lack of an overdriven top gear on most original MGs.
Nissan 5 Speed Conversion
The Nissan 5 speed conversion allows you to drive at highway speeds with lower revs than possible with a standard transmission. The original MG engine was not built to sustain speeds of 75 miles per hour for extended periods of time. Without the conversion, the longer stroke and higher revs need to sustain such a speed will wear on the engine over years of use. Overdriven top gears, whether provided by an original unit or a new Nissan unit, allow the engine to operate at lower revs, saving it from unnecessary wear and tear. Now an autumn jaunt in the mountains, a summer road trip out west, or even an afternoon picnic in the park becomes a more enjoyable experience all around.