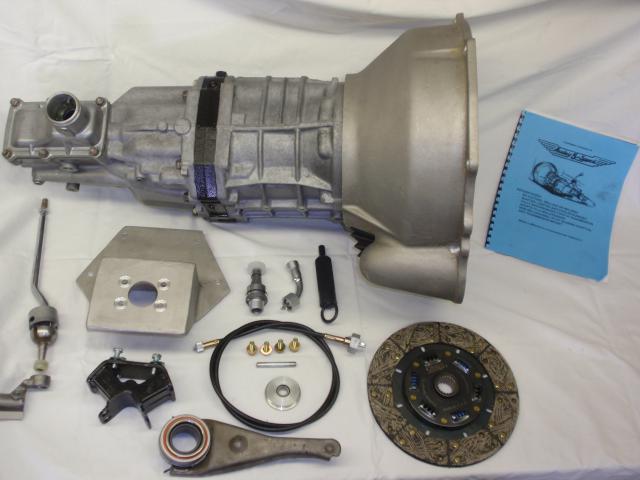 TR6 5 speed conversion
Having an extra 2 cylinders doesn't mean you're getting the ideal motoring experience from your TR6. The original 4 speed gearbox is simply not designed for American highways, and the factory optional overdrive is rare and now very expensive to source. Fortunately, a conversion kit has been developed by the fine folks at HVDA to join the outstanding Toyota Supra 5 speed gear box to the TR6 engine. The thoroughness of the engineering of this kit is exceptional, right down to the use of the original Triumph shift lever. However, it's the first entrance ramp merge that will convince most people of the quality of this kit, not to mention the satisfaction enjoyed in the following years of use. After installing several of these in the shop, we believe that this conversion delivers the product that the factory should have produced when these cars were originally built.
Austin-Healey Toyota 5 speed conversion
MG TD 5 speed conversion
Moss Motors makes a wonderful and complete 5 speed conversion kit for MGTDs and TFs. Here's what it looks like out of the box. The transformation of the drive ability of the car after installing this conversion is simply amazing. Not only does it provide a rugged, full-synchro, overdriven 5th gear transmission, it won't sacrifice acceleration in order to reduce top-end RPMs as changing the differential ratio does. In our opinion, this is one of the best updates possible for a TD or TF. Paul and Ted say two thumbs up!
Jensen-Healey Toyota 5 speed conversion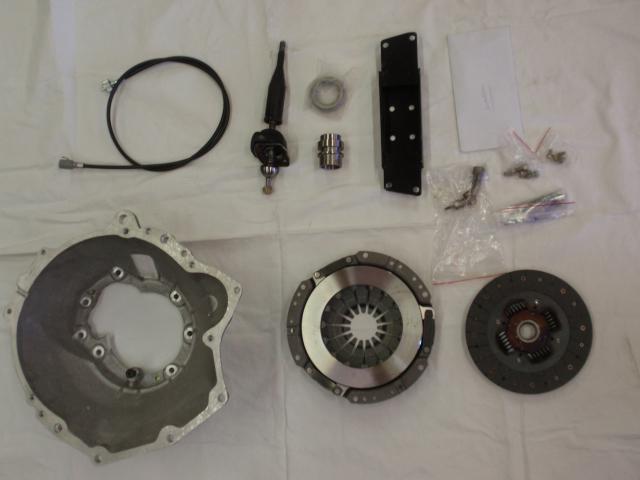 Like most other British sports cars, Jensen-Healeys also desperately need an overdriven top gear for comfortable highway cruising. Although Jensen finally addressed this problem in 1975, this wonderful kit provides a great soluton for the rest of the cars out there that were not so fortunate. The transmission used is the trusty Toyota Supra box as described in the TR6 conversion above.